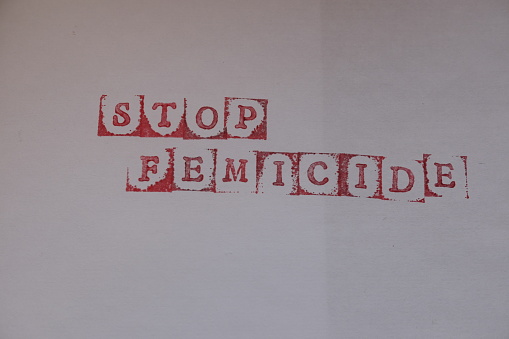 ANALYSIS Anna Ayeh 24 September 2021
The Coronavirus pandemic has dragged societal drawbacks into the light of public awareness worldwide – from deplorable conditions within health systems and profound shortcomings in digital infrastructures and education, to an intensifying wage inequality. A particular crystallization point of the crisis: gender relations. Early in 2020, experts bemoaned a rollback to the 50s for women in Germany as a result of closed schools and childcare facilities and an apparent return to post-war gender roles that render childcare a mainly female responsibility. Of even more existential significance is the rise of domestic violence resulting from lockdowns and contact restrictions. This "shadow pandemic", as the UN call it, led to an increase of violence, sexual assault and femicide in the past months across the globe, including Africa. Liberia reported a 50% rise in gender-based violence in the first half of 2020. By June, governors of all 36 states of Nigeria had declared a state of emergency over gender-based violence. In Ghana, civil society representatives report "an alarming rise in violence against women and girls" since the onset of the pandemic, including sexual abuse, intimate partner violence, emotional and economic abuse, child abuse, and femicide, adding to long-standing forms of gender-based violence such as widowhood rites and widow inheritance, witchcraft accusations, and religious bondage[1]. The diagnosis is striking: Before the pandemic, one in three women experienced physical or sexual violence, mostly by their intimate (ex-)partners. With lockdown measures in place, the domestic sphere – already a highly risky environment for women back then – became the new focal point of life and thereby heightened the vulnerability of women and children.
The Crisis Before "The Crisis"
It is important to note that the pandemic did not forge but aggravate the situation for women and children – a situation that has been labelled an "epidemic of domestic violence"[2] more than a decade ago. Gender relations have been in crisis long before "the crisis." Around the turn of the millennium, an incline of femicides shook Ghanaian society and triggered twofold activism: the counselling of and care for vulnerable people, and the legal-political impetus to issue legislation pertaining to domestic violence. Yet the memorandum to the first Domestic Violence Bill put forth in Parliament in May 2000 read surprisingly androcentric: While it explicitly referenced male persons several times, and used a couple of gender-neutral expressions, it failed to explicitly mention girls and women. Also, it reflected a reluctance to react to this epidemic with punitive measures[3]. In 2003, the National Coalition on Domestic Violence Legislation was founded specially to push for legal measures in this respect. In 2007, Ghana witnessed the passing of the Domestic Violence Act which defined domestic violence and its relation to the country's Criminal Code, as well as provisions for protecting victims, and which was, following protest of women's rights advocates, amended to outlaw marital rape. At that time, a mere total of four African countries had domestic violence legislation. Only two years later, this number had risen to 28, with post-conflict states as pioneering forces compared to non-conflict states.
Femicide: An Unresolved Danger
The first half of 2021 painfully reminded many Ghanaians of the glut in femicides that swept the country twenty years earlier. Despite large improvements in gender-based violence legislation, femicide remains a rampant danger for women both within and outside of intimate relationships. Some reasons for this are rooted in Ghana's legal structure, e.g. in the multiplicity of the legal system stemming from the colonial introduction of British common law and the simultaneous location of various systems of customary law under it. Also, legislation is only effective if followed by effective mechanisms of reporting and assessing cases as well as executing rules. Other factors informing the ongoing femicide pandemic lie in extra-legalistic areas, some of them diffuse yet malleable: norms, values and discourses around marriage and gender relations and the perceived need for privacy of problems relating to them; systemic patriarchy; economic dependence of women; gerontogamy; the lack of reliable data; male domination and lack of awareness in spheres such as law-making, court justice, and police; non-involvement of the affected population in decision-making processes. Activism towards legal institutions may unintendedly reinforce hierarchical gender relations: "In Ghana, activists for gender equality are nearly 100% female. These female activists appeal to androcentric, mostly male-staffed institutions for 'concessions' and 'opportunities' to benefit women"[3]. Interestingly, the Network for Women's Rights in Ghana (NETRIGHT) mentions the role of toxic masculinity in their statement on recent femicides in the country, pointing to an expansion of the feminist legal discourse to include the critical analysis of masculinities and their normative baggage (i.e. through topics like imageries and practices of virility, conceptualizing male sexuality, dealing with jealousy, infidelity, and relationship termination), a move that corresponds with global trends in gendered legal studies.
The Rise of Feminist Scholars
Feminist scholarship within legal studies has, since the 1990s, highlighted several areas where gender and sexuality "does, or should, matter to law"[4]. Across traditional subject matters, such as family, employment discrimination, and criminal law, gender was subsequently established as a cross-cutting topic. In the past decade and following Kimberlé Crenshaw's ground-breaking contribution to legal studies[5],intersectional perspectives have broadened this scope by critically reflecting on how gender interacts with other categories of difference such as race, class, sexuality, age, or religion. African feminist scholars and writers have since pointed to the problematics of hegemonial (Global North-based) feminist discourse and its ignorance towards issues particular to societies elsewhere. In the face of growing feminist movements across the globe, agitating against femicide, and for a proper legal framework thereof, these theoretical perspectives are now required to critically inform activism in order to enable solidarity and collaboration that, while jointly fighting gender-based violence, acknowledges socio-cultural and religious differences in framing, assessing, and responding to questions of gender.
Anna Ayeh is a research assistant at the Chair for social anthropology at the University of Bayreuth. Her research focus lies on gender, education, postcolonial- and feminist theories as well as race and racism.
---
[1] Amoakohene, Margaret Ivy (2004): Violence Against Women in Ghana: A Look at Women's Perceptions and Review of Policy and Social Responses. Social Science & Medicine 59, 2373-2385.
[2] Adinkrah, Mensah (2008): Husbands Who Kill Their Wives. An Analysis of Uxoricides in Contemporary Ghana. International Journal of Offender Therapy and Comparative Criminology 53 (3), 296-310.
[3] Dowuona-Hammond, Raymond A. Atuguba and Francis Xavier Dery Tuokuu (2020): Women's Survival in Ghana: What Has Law Got to Do With It? Sage Open July-September 2020, 1-12.
[4] Bartlett, Katherine T. (2020): Gender Law: After Twenty-five Years. Duke Journal of Gender Law & Policy 27 (1), 1-23.
[5] Crenshaw, Kimberlé (1989): Demarginalizing the Intersection of Race and Sex: A Black Feminist Critique of Antidiscrimination Doctrine, Feminist Theory and Antiracist Politics. The University of Chicago Legal Forum 8: 139-167.