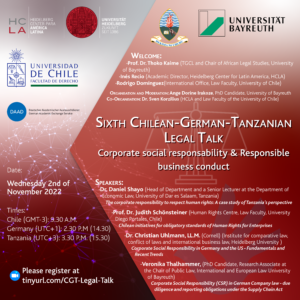 On 2nd November 2022, the Chair of African Legal Studies at the University of Bayreuth in collaboration with the Heidelberg Centre Latin America (HCLA), conducted the sixth Chilean German-Tanzanian Legal Talk. The central theme of the Talk was: 'Corporate social responsibility & Responsible business conduct'.
PART 1 Dr. Daniel Shayo (Head of Department and Senior Lecturer at the Department of Economic Law, University of Dar es Salaam, Tanzania) about 'The corporate responsibility to respect human rights: A case study of Tanzania's perspective'.
PART 2 Prof. Dr. Judith Schönsteiner (Human Rights Centre, Law Faculty, University Diego Portales, Chile) about 'Chilean initiatives for obligatory standards of Human Rights for Enterprises'.
PART 3 Dr. Christian Ullmann, LL.M. (Cornell) (Institute for comparative law, conflict of laws and international business law, Heidelberg University) about 'Corporate Social Responsibility in Germany and the US – Fundamentals and Recent Trends'.
PART 4 Veronika Thalhammer, PhD Candidate, Research Associate at the Chair of Public Law, International and European Law University of Bayreuth) about 'Corporate Social Responsibility in German Company Law – due diligence and reporting obligations under the Supply Chain Act'.
Watch the full event here.