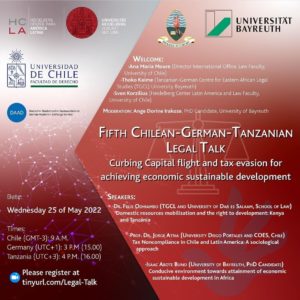 On 25th May 2022, the Chair of African Legal Studies at the University of Bayreuth in collaboration with the Heidelberg Centre Latin America (HCLA), conducted the fifth Chilean German-Tanzanian Legal Talk. The central theme of the Talk was: 'Curbing Capital flight and tax evasion for achieving economic sustainable development'.
PART 1 Dr. Felix Odhiambo (TGCL and University of Dar Es Salaam, School of Law) about 'Domestic resources mobilization and the right to development: Kenya and Tanzania'
PART 2 Prof. Dr. Jorge Atria (University Diego Portales and COES, Chile) about 'Tax Noncompliance in Chile and Latin America: A sociological approach'
PART 3 Isaac Abote Bund, PhD Candidate (University of Bayreuth) about 'Conductive environment towards attainment of economic sustainable development in Africa.
Watch the full event here.