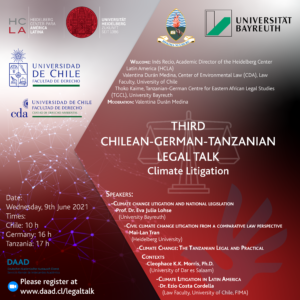 On 9th June 2021, the Chair of African Legal Studies at the University of Bayreuth in collaboration with the Heidelberg Centre Latin America (HCLA), conducted the third Chilean-German-Tanzanian Legal Talk. The central theme of the Talk was: 'Climate Litigation'.
PART 1 Prof Dr Eva Lohse (University of Bayreuth) about 'Climate Change Litigation and National Litigation'
PART 2 Mai-Lan Tan (Heidelberg University) about 'Civil Climate Change Litigation from a comparative law perspective'
PART 3 Cleophace K.K. Morris, PhD (University of Dar es Salaam)
PART 4 Dr Ezio Costa Cordella (University of Chile, FIMA) about 'Climate Litigation in Latin America'.
Watch the full event here.