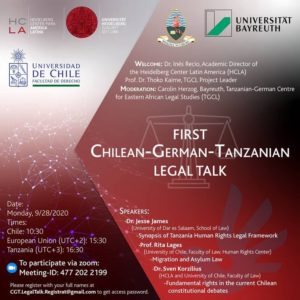 The Chair of African Legal Studies at the University of Bayreuth is launching together with the Heidelberg Center Latin America (HCLA) and the University of Chile a legal talk series. For our first legal session on 28th September 2020 we have invited three speakers to talk about human rights. The first speaker Dr. Jesse James (University of Dar es Salaam, School of Law) presents on "Synopsis of Tanzania Human Rights Legal Framework" He gives insights into:
– Protection of Human Rights
– Media Crime and Cyber Crime Act
– Tanzanian Constitution and Specialized Laws.
Watch the full event here.