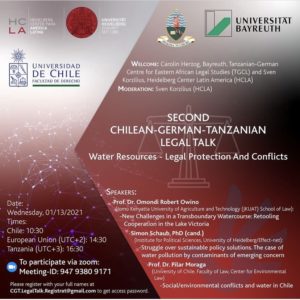 On 13th January 2021, the Chair of African Legal Studies at the University of Bayreuth in collaboration with the Heidelberg Centre Latin America (HCLA), conducted the second Chilean German-Tanzanian Legal Talk. The central theme of the Talk was: 'Water Resources – Legal Protection and Conflicts'.
PART ONE Prof. Dr. Omondi Robert Owino, (Chair of Private Law Department, Jomo Kenyatta University of Agriculture and Technology), 'New Challenges in a Transboundary Watercourse; Retooling Cooperation in the Lake Victoria'.
PART TWO  Simon Schaub (PhD Candidate, Institute of Political Sciences, University of Heidelberg) 'Struggle over Sustainable Policy Solutions; The Case of Water Pollution by Contaminants of Emerging Concern'. 
PART THREE Prof. Dr. Pilar Moraga, (Center for Environmental Law, University of Chile), 'Environmental and Social Conflicts; The Chilean Glaciers'.
Watch the full event here.